Beginning
[
]
Sweetbox was created in 1995 by executive producer Heiko Schmidt and producer Roberto "Geo" Rosan. "Booyah Here We Go" was the first single in 1995 with the voice of singer Kimberly Kearney, followed by "Shakalaka". "Shaklaka" was performed by Dacia Bridges after Kimberly Kearney left the project and peaked #1 on the New York City club charts for 3 weeks.The rise to international success followed in 1997 with a new lead singer named Tina Harris and the release of the worldwide smash hit "Everything's Gonna Be Alright". The single entered the Top Ten charts in ten different European countries and hit the top of the music charts all over the world as well. Due to the immense success of SWEETBOX in Asia, and Europe, the hit single "Everything's Gonna Be Alright:" was released in America in 1998 and was featured in Lancôme perfume commercials. The debut album "Sweetbox" featuring Tina Harris in 1998 began to brand the musical profile of SWEETBOX - classical themes combined with pop elements. The album reached double platinum status in Japan and sold over 3 million copies worldwide. Despite the band's success, Tina Harris left the band in 1998.
A New Beginning
[
]
In 1999 Jade Villalon was invited to join the band to become the new lead singer of SWEETBOX. The first SWEETBOX album "Classified" with the new lead singer Jade Villalon was published in 2001 and received gold status in Japan immediately. Due to the incredible success of the band, SWEETBOX was asked to perform three vocal songs for the English version of the video game "Final Fantasy X-2" later that year. These songs were also released on the third SWEETBOX album Adagio in 2004. In December 2006, Jade Villalon decided to pursue her solo career and left SWEETBOX. Shortly after Jade's departure, Geo sold his shares and interests of Paramusic to his partner Heiko Schmidt.
The year that followed Jade's departure saw the release of "Complete Best", a compilation album of Sweetbox fan favorites.
The Next Generation
[
]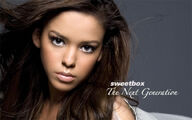 In later September, German Paramedia, the lifelong management behind the project held auditions for the new singer. A singer and model from Fall River Mills, CA, Jamie Pineda auditioned for Heiko Schmidt and impressed the executive producer immediately. Heiko invited Jamie to the studio of Bernd Burgdorf for a few test recordings the next day. Jamie signed on soon thereafter as the face of Sweetbox.
As of September 2007, Jamie had started traveling around the globe to such places like Stockholm, Gothenburg, New York City, Nashville and Los Angeles amongst other locations, to record the new album while also co-writing on it. In May 2008, Jamie and the new producer/writer of Sweetbox, Derek Bramble began recording the new album in Los Angeles. The album "The next generation" will be released in Japan on the 10th of June 2009.